About a Boat
A Boat Named Constar
I always wondered what inspired the name Constar. The 25 foot classic beauty is a 1938 Harrison Butler Zyklon Four Tonner and
I very much like the idea that it is Spanish for-
' to appear'
.
Charles had been working with Duncan Walker at Fairlie Restoration, Hamble Le Rice, Hampshire on bronze work for the topsides of two Fife boats under construction there, The Lady Anne and Mariquita starting around 1998.
Meanwhile behind the Thomas Lord PH in West Meon, Constar was resting. Her owners were valiantly trying to restore her but they didn't have the time or resources.
Charles kept mentioning this 'fine little boat' and once came home after a trip to the pub with a framed picture of her under sail.
'Please no' I said – 'we don't have the time either.'
One day Duncan Walker turned up to have a look at Constar and
I knew all was lost. As we sat in the pub car park, IN the boat I was completely out voted. 'A classic, a beauty, needs some work but then…….." Scenes of gently sailing up the Solent into the sunset were painted for me.
The conversation then turned to how the boat was to be rehydrated after being out of the water for so long. Steam baths were mentioned I seem to remember.
That afternoon I had to go to a funeral at the local church and when I returned there was digger in our yard making a huge boat shaped hole ! The deal had been done and Constar arrived on a lorry and was lowered into a plastic lined salt water wet dock where she promptly sank.
Charles installed a submersible pump into the bilges which chuntered on for days until she at last became watertight.
The forge 6 metre gantry was lowered over the wet dock by crane
and Constar could then be raised and lowered as the work proceeded.
Two confident young shipwrights from Fairlie Restoration came on Saturdays to help with woodwork and the forge workshop was taken over by the creation of the new mild steel floors and steel keel bolts.
As the weeks went on she became affectionately known as
'that bloody boat.'
I have included quite a few pictures of the work in progress which will probably only be of interest of like minded restorers but after
10 months dear Constar was complete.
I am glazing over the hours of toil, expensive trips to the chandlery
and research for appropriate materials to the point where she was loaded by crane onto a low loader lorry and transported to Sparkes Yard, Hayling Island. Duncan Walker met us there and came out with us on our maiden voyage into Chichester Harbour and helped us put her on a mooring for the first time.
Having now sailed Constar around the Solent for 18 years we realise that we are mere caretakers of the fine little boat.
We have been welcomed into unknown berths along the South Coast with a cheery 'Well you know where to go- your usual spot'
We reply 'Actually we have never been here before'
Constar has had three major refits whilst we have owned her
and it has been agreed that we would never have managed without the full resources of the workshops at Wheely Down Forge.
Every winter she has been brought back to the yard, the mast stored behind the fabrication building and Constar floated in safety in her salted wet dock.
So now in 2018 she has a new deck, has been completely repainted inside and out and had the mast refurbished.
In a few years time Constar will be looking for new owners
who have enthusiasm and a passion for the stewardship.
She is a safe, solid little boat good with good accommodation for small people or as a day boat for large people!
If you can take on the mantle, let us know.
What we renewed in the original restoration
The boat was totally stripped out to just a hull
then she had NEW:
mild steel floors
mild steel keel bolts
pressurised paraffin cooker system
Yanmar engine
mild steel tabernacle
bronze chain plates
bronze bumpkin
restored bronze winches
deck repaired and canvassed then replaced again
restored Baby Blake heads
new stainless steel fuel tank
new stern gland and shaft log
A history and description of the Z 4 Tonner from the Classic Yacht Brokerage
"The Zyklon design first drawn by Dr T Harrison Butler in the mid 1920's has become an icon of pocket cruising yachts. Whilst his profession was an ophthalmologist, he was also an amateur yachtsman and self-taught yacht designer.
In 1937 THB was approached by Captain O M Watts to produce a weatherly 4 tonner which could be built on a production-line basis, the first of it's kind in the UK. THB revised his earlier Cyclone design to produce the Zyklon Class. Captain Watts approached the old established Brentford joiners and timber merchants Alfred Lockhart and a factory was set-up in late 1937 where the first example was built. The design was marketed as the 'Z Four – Tonner' and can be distinguished by the letter Z on the stemhead.
In 1938, the first full year of production fourteen examples were completed. In order to complete the yachts quickly and economically an efficient assembly and costing system was used. The work was divided in to twelve operations using pre-made parts and sub-assemblies taken into stock. The construction is novel, the hulls were built upside down on a steel mould taking four men a week to plank. A six week delivery for all Z4 orders was quoted, the price in 1938 being £297, rising to £339 in 1939.
By the end of 1939 forty-eight 'Z' Four Tonners had been built and sold and the Zyklon Design was gaining a superb reputation with Yachting Monthly featuring extended voyages. Had the Second World War not intervened many more examples would have been built, although several other boatyards also built examples of the Zyklon design.
Captain Watts had plans to build and market other THB designs however after the war Lockharts were engaged with joinery work to repair bomb damaged houses in London and materials were scarce for yacht building.

Metacentric shelf formula
Harrison Butler was a strong believer in the 'metacentric shelf formula' to achieve good balance and handling under sail. The theory held that as a yacht heels under sail, its balance will depend on the immersed form of the hull, with different sections exerting varying degrees of buoyancy and aft sections possibly being more buoyant than forward sections. Metacentric shelf analysis plots the shifts in the varying buoyancies as a net value to windward or leeward and serves as a guide to achieving equal buoyancy in the dissimilar ends of a design. The work can now be done by computer, but when it was applied by the brain, hand and eye of Dr. Harrison Butler it produced famously sweet-handling boats, in the age of heavy weather helm.
In the days before computers, Harrison Butler was known to cut out paper cross sections of his hulls in order to calculate lines of symmetry and centres of mass. Boats built to his designs are noted for their sleek looks as well as their pleasant handling.
He wrote two books, Cruising Yachts: Design and Performance, and An Illustrated Guide to the Slit-Lamp. and was the subject of a 1980s BBC TV documentary.

The Original Z 4 Tonner Specification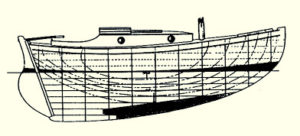 Complete with engine (a choice of a 6hp Watermota petrol-paraffin or a 4 hp two-stroke Stuart Turner petrol), anchor & chain, a suit of cotton sails, and a standard inventory including warps, coir fenders, paraffin anchor and cabin lamps, spring berth mattresses and a deck mop (with handle), the delivery price launched and ready to sail in 1939 was £297.
Two lists of "optional extras" were quoted for, the "Normal Cruising Equipment" list including items such as lead and line, salt water soap, and kapok lifebelts. The "De Luxe" list included clock, barometer, battery operated wireless and waterproof cotton sleeping bags lined with best quality camel hair.